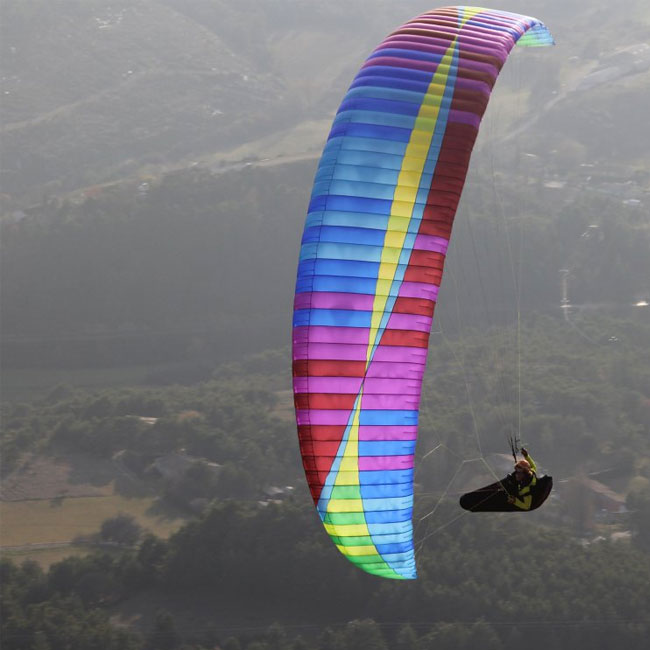 BGD Cure, EN/LTF-C
Target
Are you finding it hard to stay up? Suffering from flight sweats, bomb-outs, or launch anxiety? Feel like you're not making goal? There ARE treatment options. If you or someone you know has been experiencing some or all of these symptoms, maybe it is time to ask your dealer about the EN-C CURE. The "flying bug" has afflicted thousands of pilots around the world and is quickly becoming the leading cause of giant FAI triangles. Luckily, doctor Bruce Goldsmith has had a number of breakthroughs in developing the EN-C CURE. Clinical trials* have proven the CURE highly effective in climb, glide, speed, safety and handling. This remedy has been developed for patients who have progressed beyond the EN-A and EN-B stages and require a higher performance treatment.
Learning
Hike And Fly
Cross Country
Freestyle
SIV
Description
From the ground up (literally) the EN-C CURE is a supercharged paraglider combining the perfect ratio between climbing efficiency and usable performance, guaranteed to cure even the worst cases of the "flying bug".

Studies suggest that the EN-C CURE mutates into an extension of the patient's mind and body as they speedily work towards their goals. Bruce Goldsmith handling has been added to maximize the quality of the experience.

INGREDIENTS: Trademark Cord Cut Billow, 54 leading edge mini-ribs, Strong shark, 60 enhanced cells, 6.75 flat aspect ratio, optimised micro-lines, 4.3-5.4kg weight, Bruce Goldsm¬ith handling, zesty artificial colouring.
Bruce's Notes
Its 3am and I can't sleep. My mind is racing, non-stop. My wife, Arna, always says my best ideas come at night but I have to test high-G spirals tomorrow. Like a jolt, it happens. Reinforced leading edge mini-ribs combined with Cord Cut Billow would allow for an aggressive shark nose, minimal cells, and brilliant stable speed. I fall asleep in total bliss. The next morning a mix of rip-stop, plastic, and cloth create a rippled sticky mess across the leading edge of a prototype. Despite the homemade quality issues, the idea worked! A few prototypes later the CURE was born.
Out of the factory, the mini-ribs work better than I expected. It is the paraglider of my dreams (when I finally get to sleep). High performance, light design, exceptional handling, and impeccable safety all wrapped up into a neat colourful package. The EN-C CURE truly cures my craving.
Design Features
Cord Cut Billow (CCB)
Cord Cut Billow technology has been developed to improve the form friction, glider stability and overall performance of our paragliders. Two seams run chord-wise across the top panels of the leading edge to accommodate the panel ballooning that happens when the wing is inflated. Up to five centimetres of excess material is created on the sides of an inflated flat panel bending over a wing profile. Cord Cut Billow technology absorbs the material with a 3D panel resulting in fewer ripples and improved rib profile shape and stability.
Leading edge mini-ribs
Situated along the leading edge are reinforced mini-ribs, designed to help produce a rock solid profile while on speed bar.
Strong Shark nose
An ultra aggressive shark nose optimises stability at all speeds. Not all sharks are created equal and BGD's shark noses are very aggressive, maximizing the effects of the technology.
S
M
ML
L
Linear scaling factor
0.96
1
1.04
1.08
Projected area
17.69
19.20
20.77
22.39
m²
Flat area
21.20
23.00
24.88
26.83
m²
Glider weight
4.2
4.6
5.0
5.4
kg
Total line length
225
244
264
285
m
Height
7.10
7.625
7.9
8.2
m
Number of main lines
3/3/4
A/B/C
Cells
108/60/118
Flat aspect ratio
6.75
Projected aspect ratio
4.87
Root cord
2.18
2.27
2.36
2.45
m
Flat span
11.96
12.46
12.96
13.46
m
Projected span
9.27
9.66
10.05
10.43
m
In-flight weight range
60-80
75-95
90-110
105-125
kg
Trim speed
40
km/h
Top speed
57
km/h
Min sink
1.0
m/sec
Best glide
11
Certification
EN/LTF-C
| | |
| --- | --- |
| Top surface: | Dominico N30 42g/m² |
| Bottom surface: | Porcher Skytex 27g/m² |
| Internal structure: | Porcher Skytex Hard 27-32g/m² |
| Nose reinforcing: | Plastic wire 2,4mm |
| Risers: | 13mm black Kevlar/nylon webbing |
| Pulleys: | Ronstan/Harken P18 pulleys |
| Top lines: | Edelrid Magix Pro 8000U (Unsheathed) |
| Middle lines: | Edelrid Magix pro 8000U (Unsheathed) |
| Lower lines: | Edelrid Magix Pro 8000U (Unsheathed) |
| Brakes: | Liros DC (Unsheathed) |
Package Includes
Paraglider
Rucksack
BGD T-shirt
USB stick with manuals
BGD stickers
Stuff sack
Compression strap